London presents the 6th-highest 'opioid hospitalization' rate of Canada
Opioids are a class of narcotics that include illegal drugs such as heroin, prescription painkillers and synthetic drugs such as fentanyl, often the source of deadly overdoses and warnings by police and health authorities about the hidden dangers in street drugs.
According to the 2017 report by the Canadian Institute for Health Information (CIHI), 9,000 deaths from January 2016 to June 2018 were caused by opioid overdoses. Also, the national opioid hospitalization rate increased by 27% over the past five years.
The City of London presented the sixth highest opioid hospitalization rate of Canada, and the cities of Brantford and St. Catharines-Niagara ranked second and fourth respectively in the ranking. According to Jennifer Bieman from The London Free Press, economic factors may play a role in these results.
Why Southwestern Ontario is so implicated in high rates of hospitalization for use of the highly-addictive drugs isn't clear, officials say, but economic factors such as poverty and unemployment can't be ignored, they note.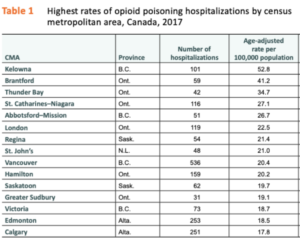 The opioid crisis has been being a complex health and social issue across the whole country. And, in order to deal with it, Dr. Chris Mackie, the medical officer of health for London and Middlesex County, suggests a more constructive and cost-effective approach:
Housing with supports is a more efficient way of supporting people with addictions. We need more investment in evidence-based treatment models like methadone maintenance and suboxone.
Sources:
https://lfpress.com/news/local-news/london-opioid-hospitalization-rate-among-canadas-highest-study
https://www.cihi.ca/sites/default/files/document/opioid-related-harms-report-2018-en-web.pdf