At The Centre of Hope, clients have access to many resources and supports to help them find permanent housing as well as community supports to assist them in becoming a part of their neighbourhood.
Housing Assessment And Support Plan Tool
The Housing Assessment and Support Plan Tool (Housing Tool) is intended to:
Within the 'Housing First' model, provide comprehensive information pertaining to an individual or families housing profile, history and challenges will form the basis of providing focused service and support.
Information regarding a 'housing profile' will enable the service provider the ability to identify the housing goals and objectives of the individual or family and it will also serve to strengthen the awareness of the individual or family regarding their own choices for housing.
Information regarding the 'housing history' of the individual or family will enable the service provider with the individual or family, the ability to identify challenges to acquiring and sustaining housing.
Identifying 'housing challenges' enables the service provider to focus resources on the challenges that the individual or family faces.
A common Housing and Supports Assessment tool acknowledges that the community has a common commitment to assisting individuals and families within a collaborative framework.
Resource Rooms
Finding suitable housing can take considerable time and assistance. There are two Resource Rooms available for clients, one for women only and one for men and couples. Through the week, CMHA are on-site to assist clients with mental health challenges to find suitable housing. Centre of Hope staff are also available to assist seven days a week. The Resource Rooms are supplied with computers, telephones, paper and pens as well as apartment listings. Once a week, London Housing Registry is on site to assist.
Hope To Homes Program
In 2014, 261 Wellington Street transformed from the former Street Connection building into the From Hope to Home building. Here, clients who are moving into permanent housing can "shop" to find items they need to set up their new home. These items can include bedding, pillows, dishes, glassware and cutlery as well as cleaning supplies and knick knacks that make a new home have a sense of personal space and ownership.
Clients make an appointment on their move-out day with staff to choose their new items.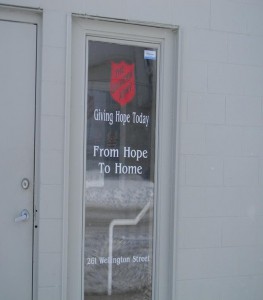 In The Community
Community Supports include twice weekly community meals, community chapel, Soul Food cooking classes for men and our Spiritual Care team will meet clients in the community for follow up and assistance.