The Community and Family Services Food Bank Hours!
Open Monday, Tuesday, Thursday and Friday 9:00- 4:30 and Wednesday 9:00 – 6:30.
Summer Camp
Our 2018 Adventure Camp week is July 16 – 21! Registrations begin in April. By appointment only. Please call 519-661-0343 ext. 230 to schedule yours.
Salvation Army Centre of Hope launching plan to get 100 people into permanent homes
Salvation Army Centre of Hope executive director Nancy Powers stands outside of the Wellington Street help centre in London. The Salvation Army is launching a new campaign in hopes of lessening reliance on their 267 emergency shelter beds. (CRAIG GLOVER, The London Free Press)
One of London's largest and most iconic shelters for homeless people is getting out of the big-shelter business.
Reflecting the seismic shift in the city and much of Canada over how to treat homelessness, the Salvation Army's Centre of Hope will launch next month a four-year plan to get 100 people out of its beds and into their own, permanent homes.
The 100 Homes Project will focus first on young people, who are filling city shelters at increasing rates.
"We're taking a bold step, a very deliberate step . . . to end homelessness," says centre executive director Nancy Powers.
"It's a shift for sure. This is about having a bigger impact in London. This is about changing lives. We don't have the same impact if we continue to do what we're doing," Powers said in an exclusive interview with The Free Press.
The six-storey shelter looms over Wellington and Horton streets at the southern gateway to the city's downtown, a symbol for the past 11 years of homelessness in London.
It's not the only shelter in the city, but one of the most visible and, at times, a target for those who believe the shelter system entrenches homelessness by providing beds but not enough other help.
The Salvation Army's move is a sign the city is changing, said Jan Richardson, manager of homeless prevention in London.
"We've had a momentum that has been building over the past couple of years about believing we can end homelessness," she said.
With almost 1,900 residents coming through a year, finding homes for 100 is just the beginning of change for the centre, Powers said.
The Centre of Hope will always house homeless people, but will likely evolve into a community hub for everyone in the area, she said.
One small, early example, the centre plans to turn a concrete patch into a community garden next year.
"Is it going to mean a reduction (of beds) here? Is it going to mean changes for the centre? Absolutely," Powers said.
The change in London is part of a national re-think for the Salvation Army, which this summer issued seven principles for operating shelters that include finding people housing.
Shelters were never meant to be a long-term solution for people, Perron Goodyear, the Salvation Army media relations officer for Southwestern Ontario, said.
"They were supposed to be stop-gap. We are trying to focus on getting back to that," he said. "We can't do things the way we've always done things."
The Centre of Hope has already reduced shelter beds over the past two years because of declining need as the city moves to support more people in their own homes.
The Salvation Army in London will work with landlords to find housing, and two agencies — Youth Opportunities Unlimited (YOU) and St. Leonard's Community Services — will provide workers to help people get into and stay in their homes.
The two agencies' involvement with young people brought them aboard. From 2011 to 2013, the number of adults aged 19 to 24 years going to city shelters increased, while the number of people over the age of 50 decreased, according to a city report.
"The quicker you can get young people housing, the less chance they will face homelessness again," said Steve Cordes, executive director of YOU.
It can be especially difficult for young people, inexperienced with landlords and rental agreements, to find permanent housing, said Heather Lumley, executive director of St. Leonard's Community Services.
"Often, the youths we are seeing in the justice system have been marginally housed along the way. They haven't got the skill set or resources to get stable housing," she said.
Funding for the project comes from the city and federal governments.
CENTRE OF HOPE
Operation by Salvation Army
133 emergency beds
92 private transitional beds
1,928 average clients a year
75% are men
| | | |
| --- | --- | --- |
| 2011 | 2012 | 2013 |
| Age of youngest residents | | |
| 18 | 17 | 16 |
| Residents under 18 | | |
| 0 | 3 | 23 |
paces are limited! Don't wait!
STREET DRUGS: Addiction, availability and difficult withdrawal symptoms add to problems
Explosive growth of crystal meth use in London causes havoc 0
Nancy Powers, executive director of the Centre of Hope in London, stands in a room where clients stay while receiving treatment. (DEREK RUTTAN, The London Free Press)
Easily produced, cheap to buy and easy to find, the drug has become such a problem that street outreach workers, police and public-health providers all say a higher-level community response is needed.
Just three years ago, only 3% of the people seeking help from the only drug-withdrawal management centre in the city were fighting the demons of the crystaline drug that sells for about $10 a hit on the street.
Now, nearly 40% turning up for that help, at the Salvation Army's Centre of Hope, are on crystal meth.
The impact is straining the ability of London shelters and treatment centres to help, said Nancy Powers, executive director of the Centre of Hope. What's needed, she says, is a more co-ordinated approach.
"We had several meetings last week . . . with the Addiction and Mental Health network, and everyone is going, We need to come up with a plan," she said.
When people high on crystal meth come into the centre for help, Powers said staff often can't provide it. "They are high, they are aggressive, loud, paranoid," she said.
The high can run for days, followed by severe depression that can also last days.
The problem is, neither the centre nor any other service is equipped to deal with people coming off crystal-meth highs, said Carole Lambkin, who runs the withdrawl-management centre.
And the fallout, she said, ripples out — to police, health-care providers and street outreach workers.
"They (crystal-meth addicts) are unable to rationalize and they are so unreasonable with staff and other clients," said Lambkin. "Every noise scares them. They think everyone there is out to get them and they are bouncing off the walls."
Often cut with unknown or hazardous chemicals, crystal meth — also known on the street as ice or glass — can easily be made in clandestine labs, and can be snorted, smoked or injected with a needle.
High on the stimulant, people often experience stroke-like symptoms and what's known as crystal meth-induced psychosis.
"In their psychosis they become fearful — they need to be safe, so they need to withdraw," said Lambkin. "But a lot of times, they become uncontrollable. We have to have them removed,"
They call police, which all agree isn't the right response for someone in crisis with drug side effects.
"We only have one option here: Arrest them and take them to cells," said London police Supt. Bill Chantler, the department's go-between for several agencies that work with addicts and those dealing with mental illness and homelessness. "If the peron is committing a criminal offence . . . we can take some action, but that's not going to solve the root cause," said Chantler.
"The root cause problem is they are addicted to crystal meth and the deeper root cause is the crystal meth out in the street."
Chantler said police have zeroed in on crystal meth "as a significant issue," noting police targeted crystal meth dealers for the first time in a recent drug bust. "It's a major problem out there."
Recently, the talk has turned to a need in London for a "wrap-around response," said Linda Sibley of Addiction Services Thames Valley.
That could include some system of medical intervention and a place where addicts can withdraw safely.
"I'm seeing a doubling (of crystal meth users who come in for help)," said Sibley. "There's no question, there's something happening in the community," she said, noting it's unfolded over the last two years.
Crystal meth gained a London foothold after Oxycontin opiod pills, another drug popular on the streets, were taken off the market in 2012, outreach workers say. Back then, studies showed London had Ontario's highest per-capita opioid use and overdoses were off the charts.
With Oxy no longer easily available, addicts turned to cheaper, easy-to-get crystal meth, outreach workers say.
Unlike opioids, which are depressants that slow down the body, including breathing, crystal meth is a stimulant. It alters the brain's neurotransmitters, causing a euphoric feeling. It also packs serious side effects, including anxiety, paranoia, seizures and stroke-like symptoms.
Still, users say that when Oxy became tough to get, they turned to crystal meth because it's cheap and comes without the pill sickness the opiods pack.
Sonja Burke of the Regional HIV/AIDS Connection puts the two in contrast.
"As you come off of an opioid, the sickness caused by the withdrawl is horrible. You feel like the worst flu ever. It's like your muscles are ripped off your skin," she said.
"Crystal stops that and makes you feel productive. But when you start coming down, the depression is the worst depression you could ever imagine . . . and they (drug users) go back."
Powers said crystal meth is becoming a new go-to street drug for many, replacing alcohol, but its attraction extends beyond the homeless and others on the street.
"We get people from the suburbs," she said.
— — —
ABOUT CRYSTAL METH
Short for crystal methamphetamine
White, crystaline drug; easily made
Cheap to buy, $10 a hit on the street
Can be snorted, smoked or injected
A stimulant, causes a euphoric rush
— — —
A SNAPSHOT
One month at the Centre of Hope's drug withdrawl centre in London. A breakdown of April's 116 clients:
3%: Used crack cocaine
8%: Benzodiazopene
35%: Crystal meth
21%: Opiates
60%: Alcohol
(Some using more than one drug)
— — —
WHAT THEY SAID
Every noise scares (crystal meth addicts). They think everyone there is out to get them and they are bouncing off the walls.
Carole Lambkin of the Centre of Hope's withdrawl management centre
There's no question, there's something happening in the community.
Linda Sibley, of Addiction Services Thames Valley
If the person is committing a criminal offence, we can take some action, but that's not going to solve the root cause.
London police Supt. Bill Chantler
Fly On The Wall – Partners In Mission!
There's never a dull moment at The Centre of Hope and we're never without leaders who will put their back to the wall for their team. Literally! On Friday, our Partners In Mission committee held a Fly On The Wall challenge, where staff could pay to stick our boss, Executive Director Nancy Powers to the wall. All of the money raised supports Partners in Mission, which are Salvation Army programs throughout Liberia, Malawi and Zimbabwe. It was a very successful event as you can see, raising $416! That's a lot of duct tape!
      
Take Me Out To The Ball Game!
The boys of summer are back! And you're invited to bring your family and friends for a night of fun with The Salvation Army at historic Labatt Memorial Park on FRIDAY, JUNE 5, 2015 @ 7:35 p.m.
It's "SALVATION ARMY DAY" at the London Majors Game.
$8.00 Tickets will be available starting in April and 50% from every ticket sold will be donated to The Salvation Army.
More details will be coming soon!
Thank-You London!
When we ask for help, you never let us down. Over the past week and weekend, you've been very generous in donating much need hats, scarves, mittens, socks, blankets and more. Our clients will put these items to good use immediately, as another week of record-breaking cold weather temperatures is upon us.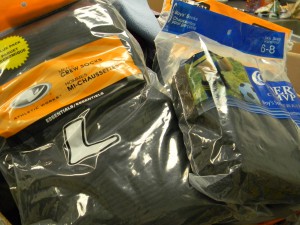 2014 Teddy Bear Toss
Thanks to the London Knights Organization for hosting again our annual Teddy Bear Toss. We collected over 9 000 bears for our Christmas Hamper Program!